Russian Mining Tycoons Eyeing Return to London Stock Market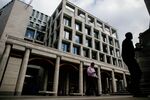 For three years, Russian companies retreated from the London stock market. Now, a pair of oil and mining billionaires is hoping to break the drought.

En+ Group Ltd., owned by aluminum magnate Oleg Deripaska, and Polyus PJSC, a gold producer controlled by the family of Suleiman Kerimov, are planning to sell shares in May or June. If successful, they could raise as much as $3 billion in London and Moscow.

The deals will test investor appetite for Russian assets after a rally in share prices, drive

n by the commodities recovery and expectations of receding tensions between Moscow and the U.S. While there have been some secondary share sales in London, including by Novolipetsk Steel PJSC in December, En+ and Polyus would be the first Russian companies to join the London exchange since 2014, according to London Stock Exchange data.

"Investors' interest to Russia was super high at the start of the year. Now, it is a bit smaller, but still impressive," Kirill Chuyko, chief strategist at BCS Global Markets in Moscow, said by phone. "Companies want to cash out this situation."

Russian companies pulled out of international markets in recent years due to sanctions, weak commodity prices and support from the Kremlin to move listings to Moscow. Uralkali PJSC and Eurasia Drilling Co. quit the London market in 2015, and gold miner Nordgold SE delisted in March.
Roadshow Plans
En+, which owns hydro-power plants and a stake in United Co. Rusal, aims to raise up to $2 billion by selling as much as a 25 percent stake in London and Moscow. The company may start planning for a roadshow in May and a sale the following month, depending on market conditions, people familiar with its plans said.

For Polyus, the sale would mark a return to London. Its parent, Polyus Gold International Ltd., delisted from London in late 2015 after the Kerimov family bought up shares amid plans to domicile the firm in Russia. The company is now planning to offer a stake of up to 10 percent to investors in London and Moscow worth $1 billion in May or June. Polyus shares are little changed this year and fell 0.4 percent to 4,387 rubles at 3:15 p.m. in Moscow.

"Both are sizable offerings and will require more than domestic demand to be successful and achieve valuation targets," said Sergei Chinkis, head of global mining and metals at Scotiabank. "London listings, rightly or wrongly, are believed to have higher corporate governance standards, investor following, and hence, a wider demand."
Swelling Debt
In both cases, the moves are in part motivated by debt. En+'s total debt, excluding aluminum company Rusal, in which it owns a 48 percent stake, was more than $5 billion at the end of last year, Chief Executive Officer Maxim Sokov said in an interview last month.

Polyus's net debt rose to $3.2 billion at the end of last year, from $364 million in 2015, as the Kerimov family consolidated ownership through share buybacks.

The two companies may end up competing for limited investment. Both are seeking anchor investors to backstop their sales, with Polyus in talks with the Kremlin-backed Russian Direct Investment Fund, according to people familiar with the matter.

"Should Russian companies decide to sell over $1 billion of shares in London at the same time, that would be difficult for investors to digest," said Odeniyaz Dzhaparov, senior portfolio manager at Deutsche Asset Management in Frankfurt.

Still, most commodity companies, including those from Russia, prefer London given its broad investor base and their interest in the sector, he said. The "Russian market, even as it is developing, still can't compete with London," he added.

Polyus's profit margin and growth strategy could make it attractive, but En+ is less appealing due to its large debt and similarities with Rusal, said Ekaterina Iliouchenko, who oversees about $215 million in eastern European assets at Union Investment in Frankfurt.

Even if both deals are successful, investors see little chance of a return to the boom days of the mid-2000s, when Russian companies raised more than $30 billion, according to LSE data.

Investors are wary of corporate governance issues in Russia and increasingly willing to buy via the Moscow Exchange.

"I prefer to buy local shares and not to pay huge commissions," said Iliouchenko. "If it's the same liquidity, we invest locally."